Rhododendron sutchuenense x (R. watsonii x R. rufum) – en vacker, tidigblommande och härdig rododendronhybrid i Arboretum Lassas Hagar
Rhododendron sutchuenense x (R. watsonii x R. rufum) – en vacker, tidigblommande och härdig rododendronhybrid i Arboretum Lassas Hagar
https://www.lassashagar.se/wp-content/uploads/2020/05/glendoick-gardens-991x1024.jpg
991
1024
Sten Ridderlöf
Sten Ridderlöf
https://secure.gravatar.com/avatar/f9b34fe648f2b54b8766d451882b7edf?s=96&d=mm&r=g
Grunddata för den specifika hybriden:
Inköpt som liten planta av Kenneth Lorentzon Axelvold Skåne senvåren 1994, antagligen 2 (möjligen 3) år. Åldern 2020 är cirka 28 år.
Planterades på slutlig plats 1994-06-05; Fick nr 10:10 i KV Söderängen. Vid inmätning 2016 fick växten den nya beteckningen 10-10-94. Lägeskoordinaterna är N59° 34.263′ E19° 03.326′.
Två tidiga måttuppgifter höjd: 1994-11-13 = 0,38 m; 1995-12-09 = 0,53 m.
Aktuell storlek 2020-05-22: höjd = 3,00 m; bredd = 4,30 m.
Vem som utfört hybridiseringen har eftersökts. Lorentzon avled 2019 varför ingen vägledning erhållits från honom. Kaarel Voitk är tillfrågad men är inte hybridisören. ARS frölista genomgången för åren 1991 till 1994 men där kunde inte korsningen återfinnas. Möjligen har Kenneth gjort korsningen själv och låtit en granne uppodla plantorna, i så fall troligen Tommy Sjöstrand. Men under 1990-talet fanns flera framgångsrika rododendronodlare verksamma i både Skåne och Danmark. Ursprunget är i nuläget okänt.
Allmänna karaktärer för de i hybriden ingående arterna:
Rhododendron sutchuenense (långbladsrododendron)
Enl. Millais Nurseries – Excellent long-lasting pink or lilac/pink flowers with red spotting in March-April. This is a very hardy small tree with attractive large leaves up to 28 cm long. Height 150 cm in 10 years.
Big leaf Rhododendron species have great architectural foliage which looks stunning in a woodland setting or city courtyard garden. However, the lovely large leaves do need protection from winds, but this magnificent plant is one of the hardiest of all the large growing species. However, it does still need a sheltered, moist but well drained position, and you will be successful in growing a wonderful foliage plant with the bonus of gorgeous flowers after about 6 years.
Recommended for outstanding foliage.
Easy to grow.
Ideal position: Sheltered woodland or shaded courtyards, avoiding cold winds.
Habit: tree-like.
Group: Species Rhododendron.
Subsection: Fortunea.
Introduction date: pre 1950 (1901).
Species distribution: W Hubei, E Sichuan.
Approximate altitude: 1,400 to 2,500m.
Ideal soil: pH 4.5 to 6.5.
RHS Hardiness Rating: H6.
How we usually propagate this plant: Seed.
Enl. RSBG – Predominant Flower Color: Pink, Lavender
Flower/Truss Description: Widely campanulate, pale pink to mauve-pink, spotted red but not blotched. Open topped truss holds about 10 flowers.
Fragrant: No
Bloom Time: Very Early
Foliage Description: Leaves oblong-lanceolate, up to 12″ long, lower surface glabrous except indumented along midrib.
Plant Habit: Large shrub or small tree
Height: 5 feet in 10 years ( 1,5 m).
Cold Hardiness Temp: -10°F ( -23°C)
Elepidote (E) or Lepidote (L): E
Sub Genus: Hymenanthes
Section: Ponticum
Sub Section: Fortunea
Geographical Origin: China (W Hubei, E Sichuan)
Enl. Flora of China – Shrubs or small trees, 1–8 m tall; young shoots usually ca. 8 mm in diam. below inflorescence, green, thinly tomentose. Petiole 20–30 mm, floccose when young, glabrescent; leaf blade leathery, oblong-lanceolate, 10–22 × 3–7 cm; base cuneate; apex obtuse or rounded; abaxial surface pale, persistently whitish floccose along midrib, otherwise glabrous; adaxial surface deep green, glabrous when mature; midrib prominent abaxially, grooved adaxially; lateral veins 17–22-paired. Inflorescence 8–10-flowered; rachis 10–15 mm, glabrous. Pedicel stout, 1–1.3 cm, white-puberulent; calyx lobes 5, ca. 2.2 mm, glabrous; corolla funnel-campanulate, rose, with deep rose flecks, ca. 5 cm, densely puberulent within; lobes 5(or 6), ca. 1.8 cm, emarginate; stamens 15–16, 2.5–3.5 cm, filaments pubescent at base; ovary conoid, ca. 7 mm, glabrous; style glabrous; stigma discoid, pink, ca. 3 mm in diam. Capsule oblong slightly curved, 18–36 mm. Fl. Apr–May, fr. Aug–Oct. Forests; 1600–2300 m. Chongqing, Gansu, Guangxi, Guizhou, NW Hubei, NW Hunan, S Shaanxi.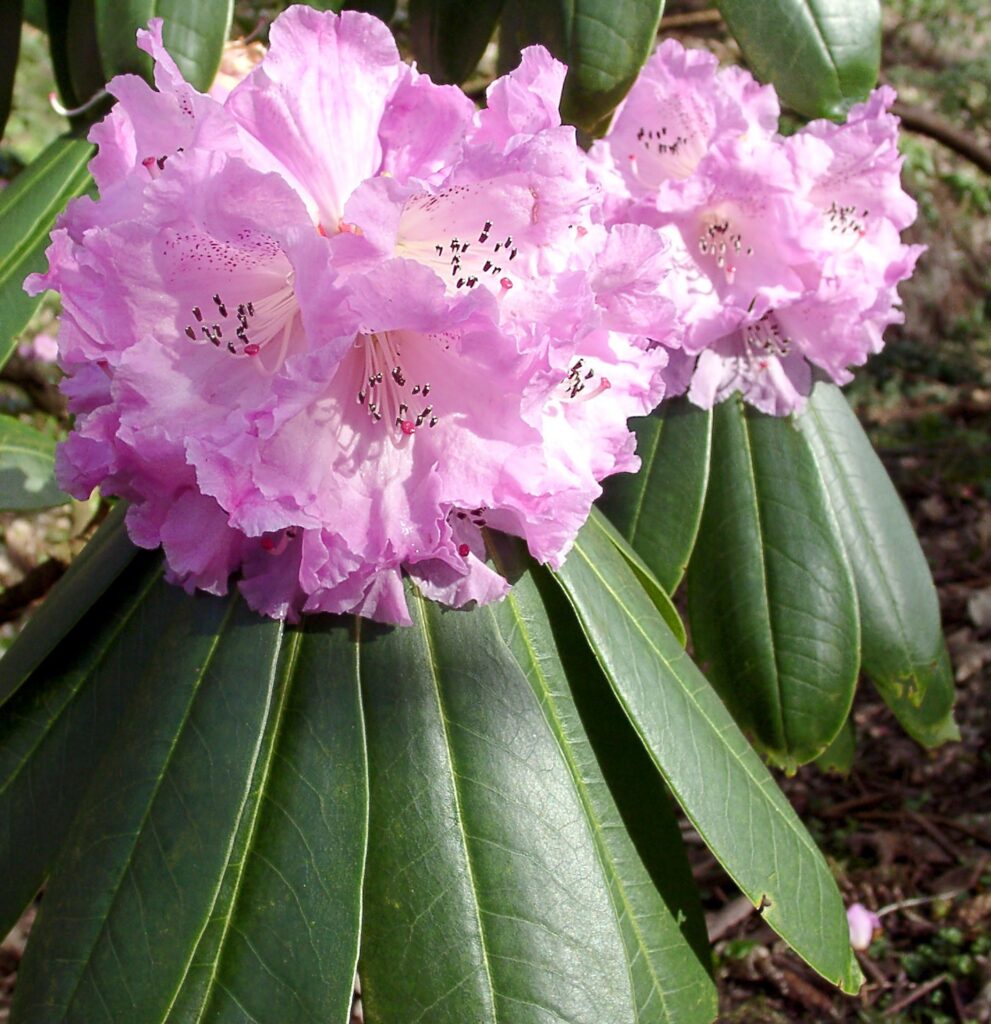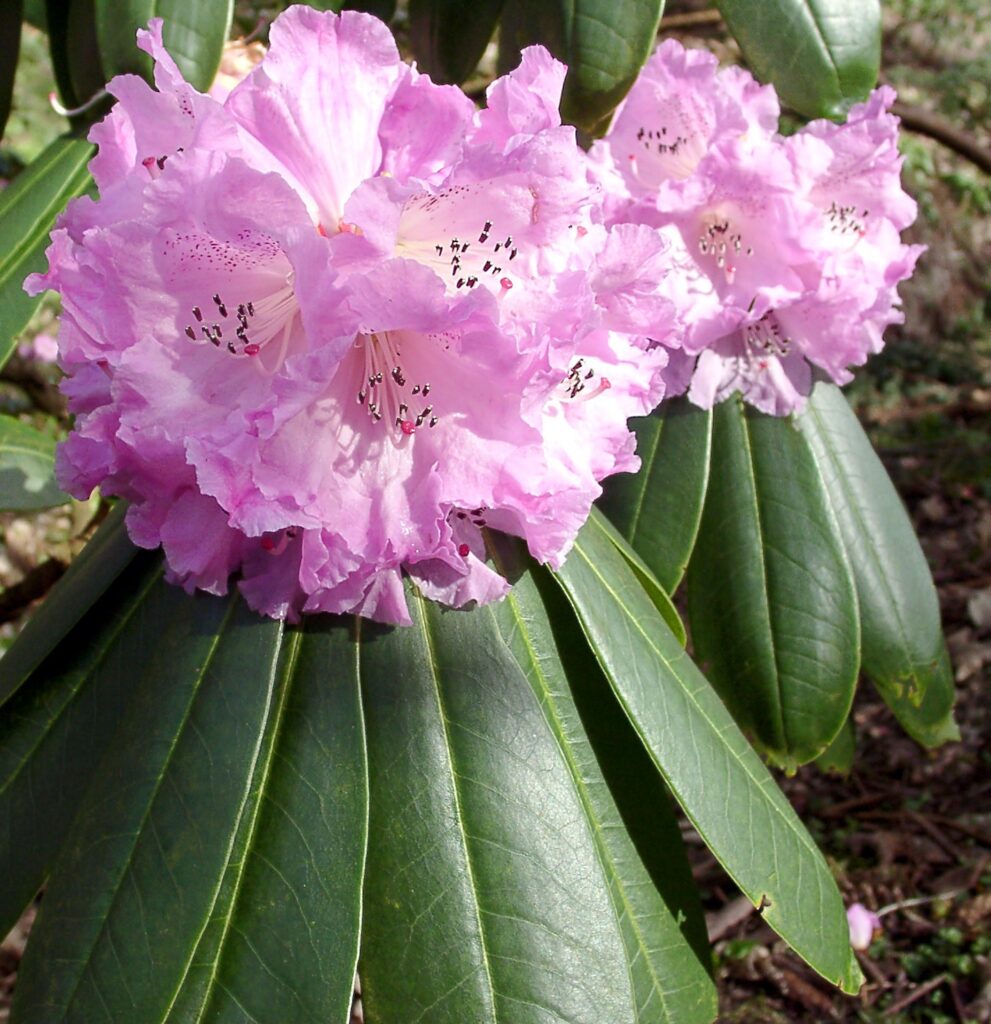 Brand: Glendoick Gardens
Rhododendron watsonii (sichuanrododendron)
Enl. RSBG – Large and very slow-growing evergreen shrubs with thick and stiff branches. The very distinct foliage appears to be almost sessile on the stems due to the very short, winged petioles. The bright green color of the leaves is offset by a striking yellow midrib. The flowers (very early spring) are white or white flushed pink, sometimes spotted maroon. Although not as impressively large-leafed as most of its "big-leaf" cousins, this species has distinctly beautiful foliage and is the hardiest member of the subsection. From seed collected in the wild. (-10\R1\4) RSBG#147sd2006.
Enl. Wikipedia – A species native to southern Gansu and western Sichuan, China, where it grows at altitudes of 2500–3000 meters. It is a shrub or small tree that grows to 1.5–6 m in height, with leathery leaves that are oblong-elliptic to broadly oblanceolate or obovate, 10–33 by 4–10 cm in size. Flowers are white.
Enl. Flora of China – Shrubs or small trees, 1.5–6 m tall; young shoots slightly gray-brown tomentose. Leaf blade leathery, oblong-elliptic to broadly oblanceolate or obovate, 10–33 × 4–10 cm; base rounded, with broad wings decurrent into petiole; apex acute; abaxial surface silvery-white to brownish, indumentum thin, compacted and agglutinated; adaxial surface glabrous. Inflorescence a lax short racemose umbel, 12–15-flowered; rachis ca. 10 mm, gray-white pubescent. Pedicel 1.5–3 cm, sparsely floccose, glabrescent; calyx irregular; lobes 7, 1–2 mm; corolla broadly campanulate, white slightly pink tinged with crimson blotch at base, 3.5–4 cm, lobes 7; stamens 14, unequal, filaments puberulent in lower part; ovary glabrous; style ± as long as corolla, glabrous, stigma capitate. Capsule oblong-cylindric, slightly curved, 3–4 × 5–7 mm. Fl. May–Jun, fr. Jul–Sep. Open forests; 2500–3000 m. S Gansu, W Sichuan.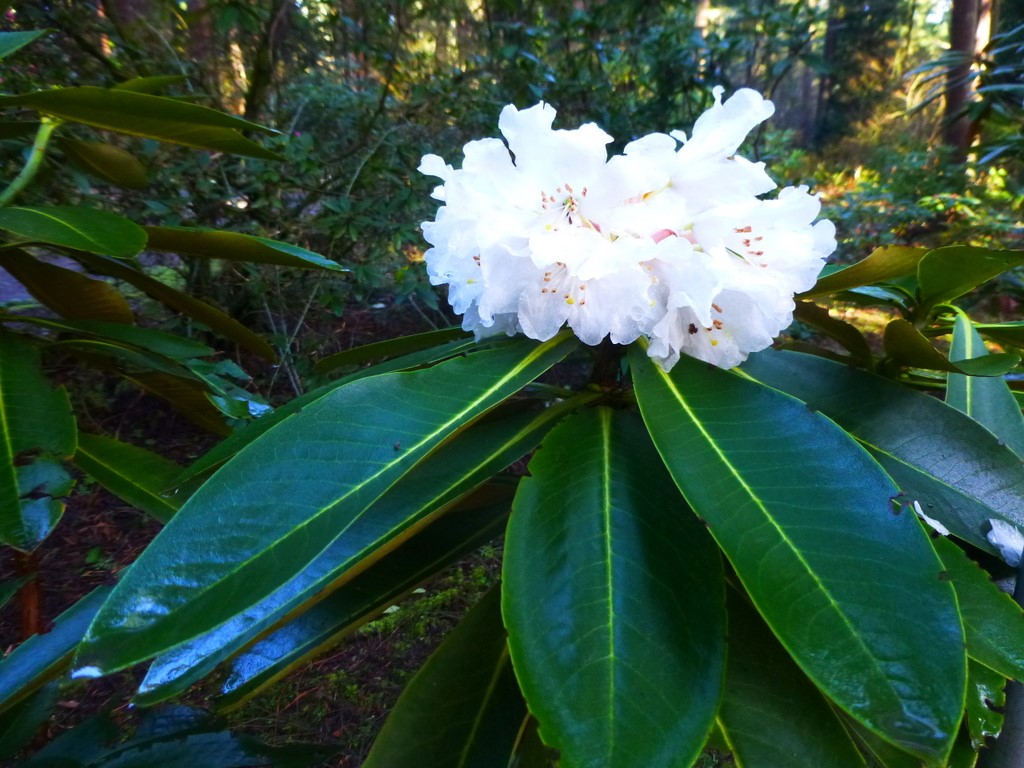 RSBG#147sd2006
Rhododendron rufum (björnrododendron)
Enl. Mustila – De kända växtjägarna Joseph Rock och svenskarna K.A.H. (Harry) Smith och David Hummel samlade in björnrododendron i Kina under de första årtiondena av föregående sekel. De exemplar av björnrododendron som odlats av fröerna har nått ungefär samma storlek som buskarna i sina hemtrakter. De har vuxit sig glesa och öppna med en höjd av 2–4 meter och har formen av trädartade buskar. I Europa har björnrododendron visat goda vinteregenskaper. Den har klarat sig i Bergianska trädgården i Stockholm redan i över 60 år och på Arboretum Mustila åtminstone sedan 1950-talet.
Björnrododendron ingår i den västkinesiska undersektionen Taliensia vars underarter i väst känns igen på sitt imponerande bladverk. Buskens bästa kännetecken är bladens undersida med sitt täta, filtaktiga, bruna eller rostbruna ludd, som i nya blad till en början är nästan vitt. Hos oss utvecklar björnrododendron blomknoppar lättjefullt och utan brådska, och de klockformiga vita eller ljusröda blommorna slår i likhet med andra växter anpassade efter inlandsklimat ut så tidigt om våren att de kan skadas av nattfrost.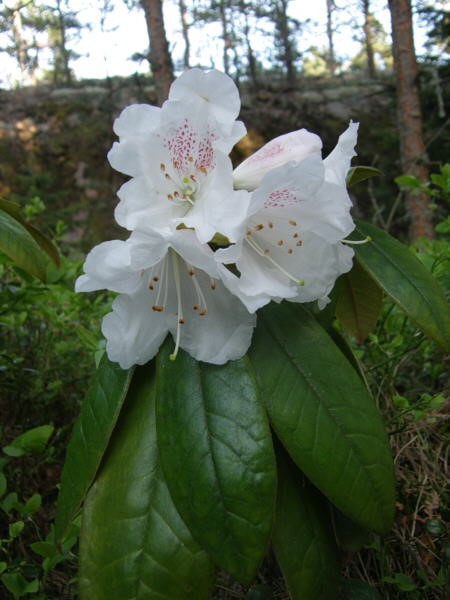 Enl. Wikipedia – A rhododendron species native to southwestern China, where it grows at altitudes of 2300–3800 meters. It is a shrub or small tree that grows to 1.5–8 m in height, with leathery leaves that are elliptic to oblong-ovate, 6.5–11 by 3–5 cm in size. Flowers are white to pink with crimson spots.
Enl. Flora of China – Shrubs or small trees, 1.5–8 m tall; shoots densely whitish to tawny floccose when young, soon glabrescent. Petiole 15–20 mm, initially with floccose hairs, later glabrescent; leaf blade leathery, elliptic to oblong-ovate, 6.5–11 × 3–5 cm; base subrounded or broadly cuneate; apex obtuse or acute, mucronate; abaxial surface with indumentum 2-layered, upper layer thick, soft, rust-yellow to rufous, woolly-tomentose, hairs branched, lower layer compacted, gray-white; adaxial surface slightly shiny, glabrous. Inflorescence racemose-umbellate, 6–11-flowered; rachis ca. 5 mm, densely rusty brown-pubescent. Pedicel 1–1.5 cm, densely gray floccose; calyx lobes 5, ca. 1 mm, broadly triangular, floccose outside; corolla funnel-campanulate, white to pale pink, with crimson spots on upper lobes, 2–3 cm, puberulent at base inside; lobes 5, slightly unequal; stamens 10, 1.2–2 cm, filaments white-puberulent at base; ovary ca. 4 mm, densely gray-brown woolly-tomentose, sometimes with few glandular hairs at apex; style ca. 2 cm, glabrous or with few hairs at base. Capsule oblong-cylindric, slightly curved, 20–25 × 5–7 mm. Fl. May–Jun, fr. Jul–Sep. Forests, mountain slopes; 2300–3800 m. C and SW Gansu, E and S Qinghai, SW Shaanxi (Taibai Shan), N and W Sichuan.
Några bilder 2020 på Lassas Hagars utmärkta rododendronhybrid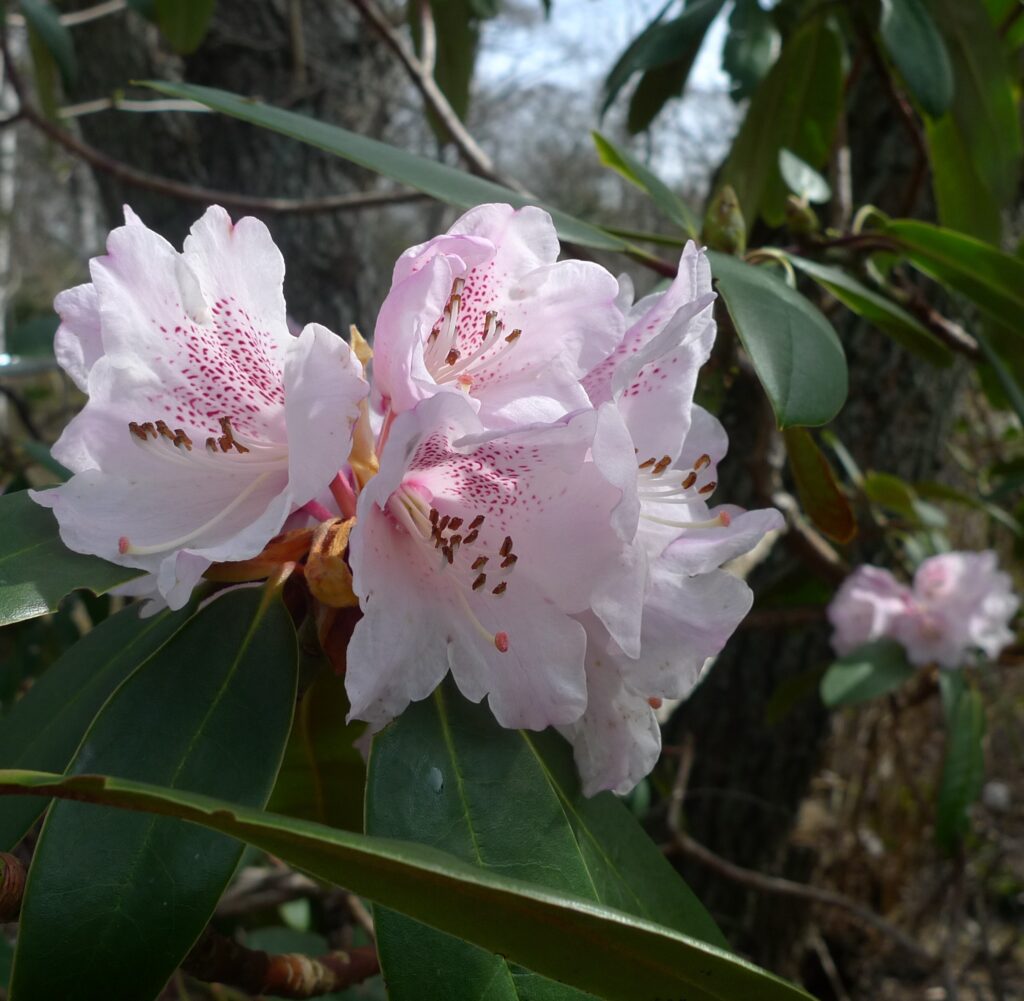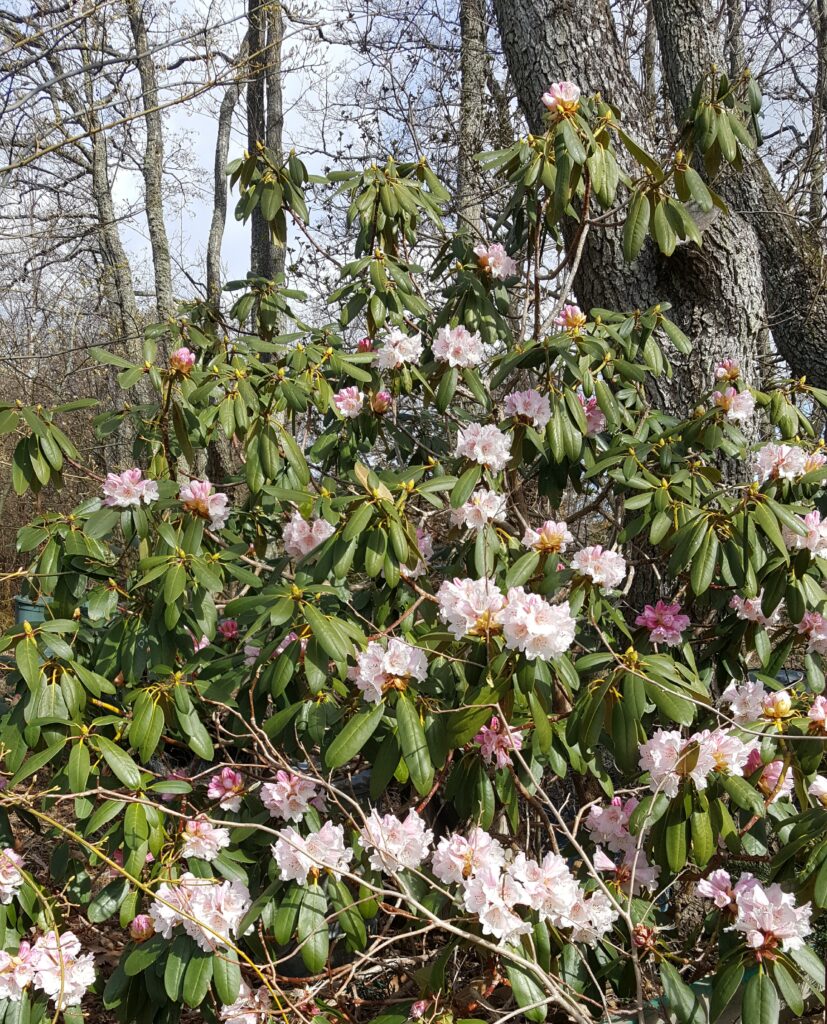 Bägge bilderna är fotograferade den 16 april 2020. Den första utslagna blomman visade sig den 7 april. Blomningstid ca 1 månad. Varje år vanligen någon vecka före Rhododendron sichotense och R. mucronulatum. Tycks tåla vårfrost mycket väl. Kan inte minnas några vinterskador trots att busken klarat av mer än ett ¼ -sekels vintrar på platsen.